O que você vai ler nesta publicação:
5

minutos de leitura.
Swimming pools are a consumer dream in homes and the main attraction in clubs and condominiums.
However, these beauties can cause problems due to the incorrect use of chlorine or the allergic reaction that chlorine can cause in sensitive people.
See how the treatment of swimming pools with chlorine works.
The treatment of pools with ozone appeared a few years ago and promised to eliminate this problem, albeit at a relatively high cost when compared to conventional chlorine treatment.
Ozone Pools
The benefit of physical exercises practiced in the pool is indisputable.
The practice of exercises in the swimming pool helps to develop our motricity, our sociability and our respiratory control, in addition to serving for entertainment, leisure and physical therapy activities.
The problem is that these benefits end up accompanied by concerns caused by the inadequate maintenance of the water in the pools, which makes it necessary to think about alternative treatments to disinfect efficiently without affecting human health.
And it is in this gap that the treatment of pools with ozone fits!
Ozone generators for swimming pools
When choosing the swimming pool of a specific gym, club or college, to practice water activities, people do not always take into account the type of water treatment given at that institution.
This is because most people believe that the water must be clear and transparent to be healthy.
Undoubtedly, appearance is a basic factor, since a dirty pool is unlikely to have water within the standards indicated for human health.
However, invisible contamination is much more common and dangerous than you think.
It is a fact that the appearance of the pool is not everything! Caution!
Thousands of types of bacteria, viruses, fungus, protozoa and microorganisms can be present in transparent and clean looking waters.
In addition to biological contamination, people themselves, when entering the water, can add numerous contaminants, chemicals that can affect the health of users of the pool, and much more.
Among the forms of contamination brought by pool users we can mention sweating and urine, body secretions (nasal, pharynx, skin) in addition to creams, cosmetics, films, skin, hair and bacteria, viruses and parasites present in all of us but that, when they find a favorable environment in badly treated waters, can proliferate and cause human health problems.
See here the infections that we can catch in swimming pools.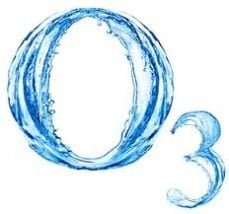 The most traditional way of treating pool water is chlorine, widely used for its recognized efficiency. However, it is still not perfect!
In addition to not eliminating certain impurities and microorganisms, it can have a devastating side effect on the health of regulars, as it can cause strong allergic reactions in people who, for one reason or another, have little organic resistance or a lot of sensitivity to it.
According to experts, one of the most efficient treatments is cleaning the pool with Ozone (O3), also known as Active Oxygen.
Ozone in pool cleaning
Ozone is a natural gas that protects living beings, as a filter, from malignant sunlight.
Ozone is a powerful bactericide, algaecide, fungicide and even kills viruses!
It destroys microorganisms in water 3,120 times faster than chlorine.
In addition, ozone does not irritate the skin, eyes and mucous membranes of pool users.
The ozone used in the treatment of the pool plays the role of a microbiological and oxidizing agent, eliminating chloramines, a product from the reaction of chlorine with some types of impurities present in the water.
Chloramines are the great villains of swimming pools, as they aggravate allergic and respiratory problems, cause burning eyes, dry skin and hair, flaking nail polish, in addition to leaving an unpleasant smell in the water and body.
Learn more about chloramines and the smell of chlorine in the pool.
In addition to not causing discomfort caused by chloramines, ozone reduces cases of ear infections (inflammation of the ears).
How ozone pool cleaning works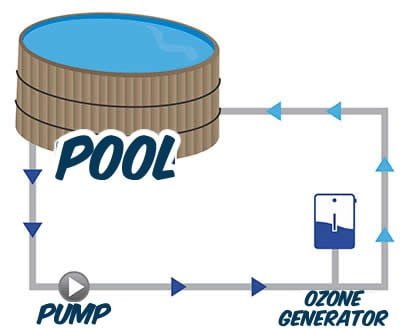 The system is very simple and can be installed in ready machine rooms.
In general, the ozone generator is installed in the engine room in such a way as to carry out the treatment in the water that follows the return pipe of the pool.
By the simplified scheme, it is possible to see that there is nothing between the ozone generator and the pool.
History of ozone in the treatment of swimming pools
Ozone was used to treat pool water for the first time in the 1950s. Since then, its usage has grown worldwide.
There are more than 30,000 pools in Europe that are treated with ozone and it's estimated that in the United States 65% of its 3 million pools (3 million!) Are treated with ozone.
Ozone is the strongest commercially viable oxidant, only fluorine is more powerful. Chlorine is a weak oxidizer.
To get an idea of how powerful ozone is, imagine something that kills microorganisms more quickly and kills many more types of them …
Ozone is used in the treatment of the main competition pools in the world.
It is the future of pool treatment that is coming! So much that athletes at the Los Angeles Olympics refused to swim in chlorine-treated pools!
Check out the other texts dedicated to this type of treatment:
Ozone for swimming pools – Discover the disinfectant use of ozone gas
The use of ozone in the treatment of swimming pools
Ozone for swimming pools | All about ozone pool treatment
Is that you? What do you think of the ozone pool treatment?
We hope you enjoyed our text about this new method of treating pools.
Don't forget to leave your comment and to follow our content, add our site to your favorites!
If you want to pass the word on, share it with friends! PoolPiscina.com thanks you!